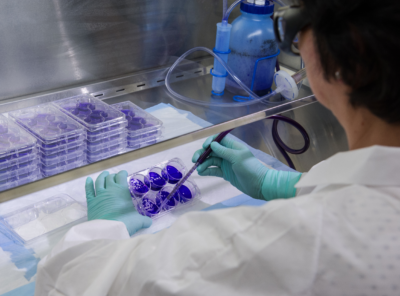 Targeting Stem Cell-Generated Beta Cells for Type 1 Diabetes Treatment
In developing more effective treatment methods for type 1 diabetes, several approaches have targeted the disease at a cellular level. Scientists know that, on the most basic level, the disease stems from the destruction of insulin-producing beta cells. However, they are unsure exactly what causes the body to mistakenly attack and destroy these cells. There have been many studies looking at how to reintroduce or stimulate these beta cells within the body in order to produce insulin naturally, but this is a difficult process and one that is hard to sustain.
A recent study may have found a way to improve the number and quality of beta cells produced for cell replacement therapy. The differentiation of human pluripotent stem cells into targeted beta cells is a long, complex process that can take weeks. Even after the process is finished, there is an assortment of cells that have been produced because not all cells differentiate as desired. In addition, not all beta cells are fully functional.
Researchers found that by adding CD77, a monoclonal antibody, they can better control the differentiation of cells into specific pancreatic progenitors. Having these pancreatic progenitors present at the start of the differentiation process may lead to higher quality beta cells that are more responsive to glucose and have improved insulin secretion abilities. In addition, it may help direct differentiation meaning a more homogenous group of cells is created, which is beneficial for cell replacement therapy. Having more of the desired type of cell can also save time and money.
Being able to better control the differentiation process may improve beta cell replacement therapy options for individuals with type 1 diabetes. Developing ways for the body to once again generate its own insulin and manage blood glucose levels could change the way the disease is managed. This study was a partnership between Helmholtz Zentrum München, the German Center for Diabetes Research (DZD), Technical University of Munich (TUM), and Miltenyi Biotec.
Though not involved with this study, the Diabetes Research Connection stays abreast of the latest advancements in the field and how emerging research may impact the diagnosis, treatment, and management of type 1 diabetes, as well as the search for a cure. As more about the disease is understood, researchers can build on this information. The DRC provides critical funding for early-career scientists whose research is focused on type 1 diabetes. To learn more and support these efforts, visit https://diabetesresearchconnection.org.
Learn More +